Peach Springs
Attractions & Activities
When you've had your fill of the Grand Canyon, enjoy one of the exciting activities in Peach Springs and along Route 66. From ziplining, cave spelunking, and whitewater rafting to shopping and dining in our historic downtown district, there's something for everyone here. Enjoy cozy lodging at the Hualapai Lodge between your adventures, which are only a short drive away!
Grand Canyon Stargazing & S'mores
Hualapai River Runners now offers an evening of stargazing, astronomy, and Smores under the Grand Canyon's starry sky.
This includes round trip transportation from the Hualapai Lodge to Diamond Creek. Guests will be picked up from Hualapai Lodge for a special evening of stargazing. Join your friends and family around the campfire for some Smores before the stargazing begins. Each guest will recieve a star finder highlighting major constellations and astronomical objects.
Located 20 miles from Diamond Creek Restaurant in Peach Springs, AZ.
HISTORIC DOWNTOWN PEACH SPRINGS
Step outside the Hualapai Lodge and you'll find yourself in the middle of historic downtown Peach Springs. Two landmarks along this Route 66 town include the John Osterman Shell Station and Historic Peach Springs Trading Post, which was erected in 1928 and listed on the National Register of Historic Places on November 21, 2003.
GRAND CANYON CAVERNS
The country's largest dry caverns are just over 10 miles from the lodge. Explore Grand Canyon Caverns with one of five tour options, including a ghost and accessible tour. You'll enter the cave—which is 200-300 feet below the Earth's surface—via a 21-story elevator and walk on a paved trail while viewing unique geological formations. Tickets start at $11 for children and $16 for adults, and vary based on the tour you choose.
KEEPERS OF THE WILD NATURE PARK
Take a leisurely stroll or guided safari through this animal sanctuary in Valentine, Arizona. Located just 16.5 miles away from our lodge, Keepers of the Wild Nature Park is home to a grizzly bear, lions, tigers, leopards, cougars, primates, birds, hoof stock, wallabies, and a variety of indigenous wildlife. You can learn about and get up close to each of these magnificent animals in their spacious natural habitats. Tickets start at $12 for children and $20 for adults. Senior and military discounts are available.
Shopping in Peach Springs
At the Walapai Market
Gas up before you hit the road. Start your day with fresh-baked donuts or pastries and super-charged coffees, lattes, and other espresso drinks. Pick up sub sandwiches and snacks for a picnic lunch, or a steak to grill for dinner at your campsite. Need haircare products, diapers, or other sundries? The Walapai Market is your one-stop destination along the old Mother Road.
Open Daily 6:30am – 8:00pm
Stock up at the Walapai Market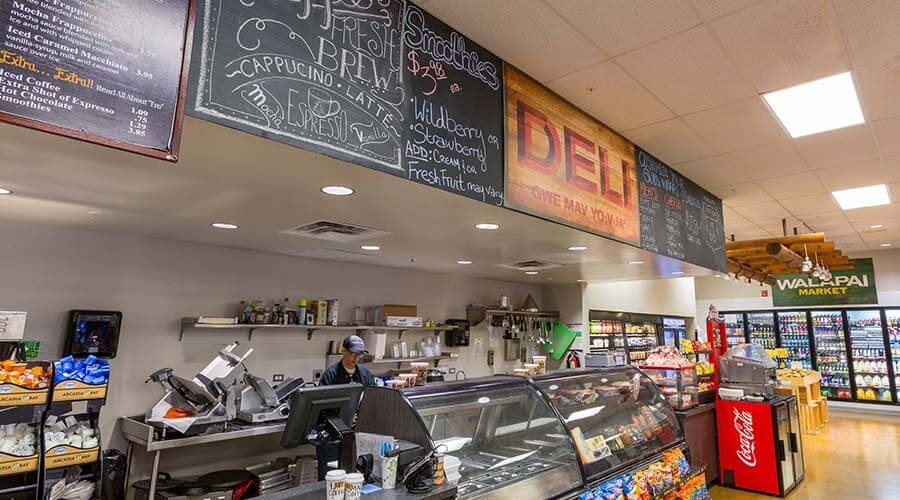 A few minutes' walk from the Hualapai Lodge on historic Route 66 in downtown Peach Springs, the Walapai Market features a fully stocked deli and butcher's area, a pastry area, and a coffee bar complete with barista service. Plus, our shelves are stocked with anything else you need, from chips and salsa to fresh fruits and vegetables. Be sure to check out our daily food and drink specials to save on breakfast, lunch, and dinner selections, and connect to our complimentary Wi-Fi during your visit.