Greetings from Grand Canyon West
Postcards from Home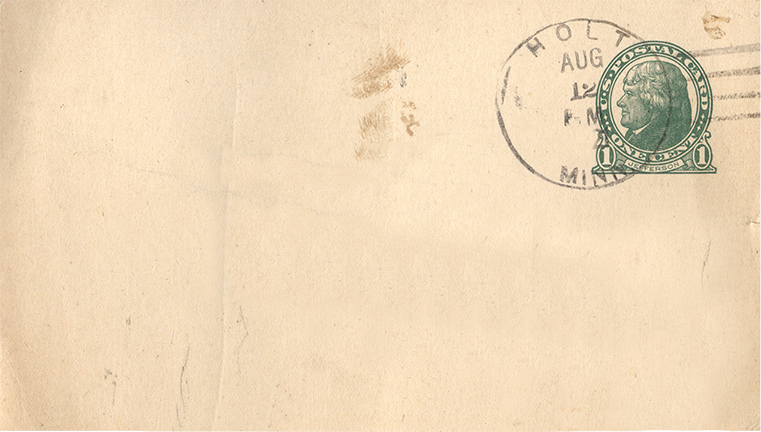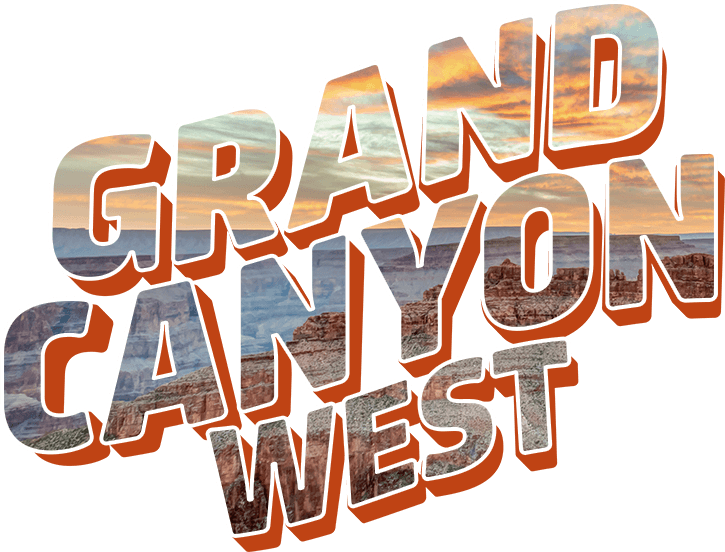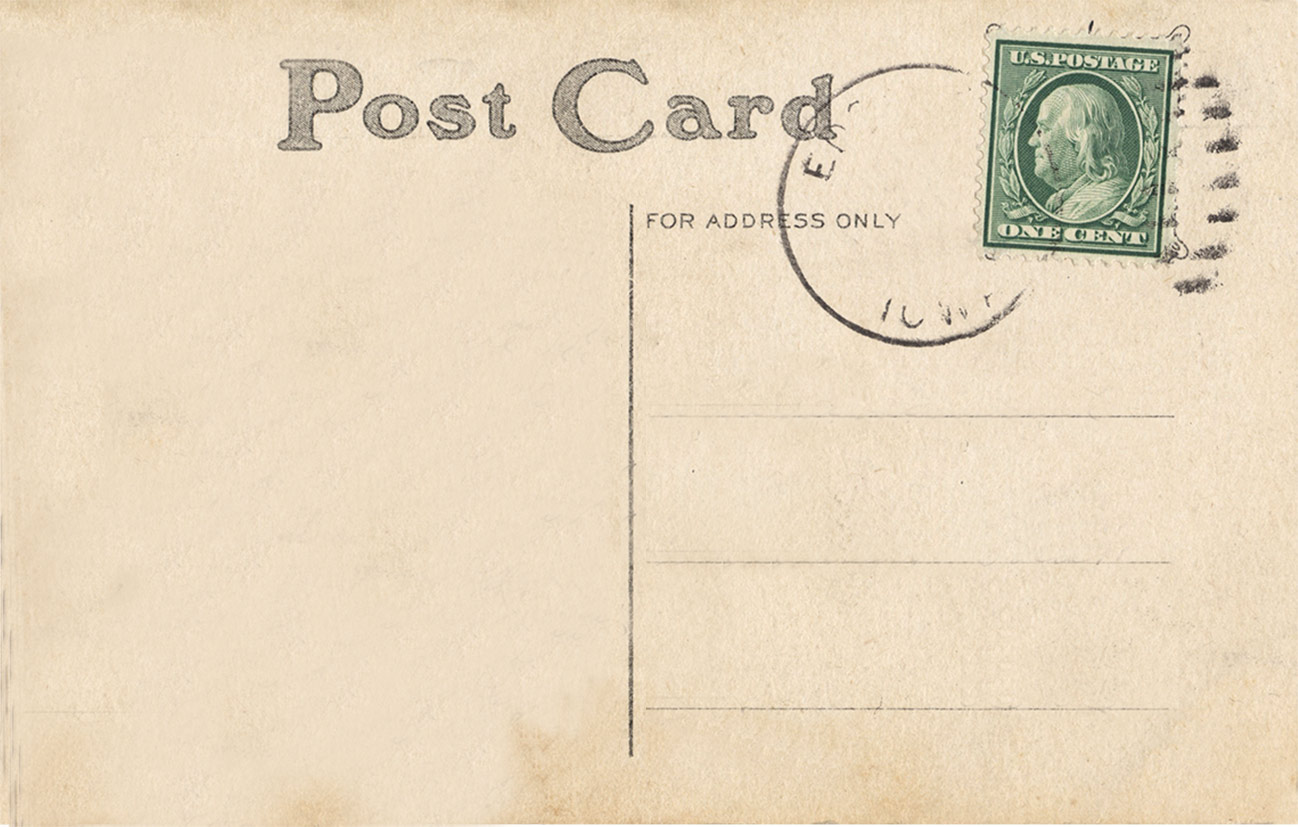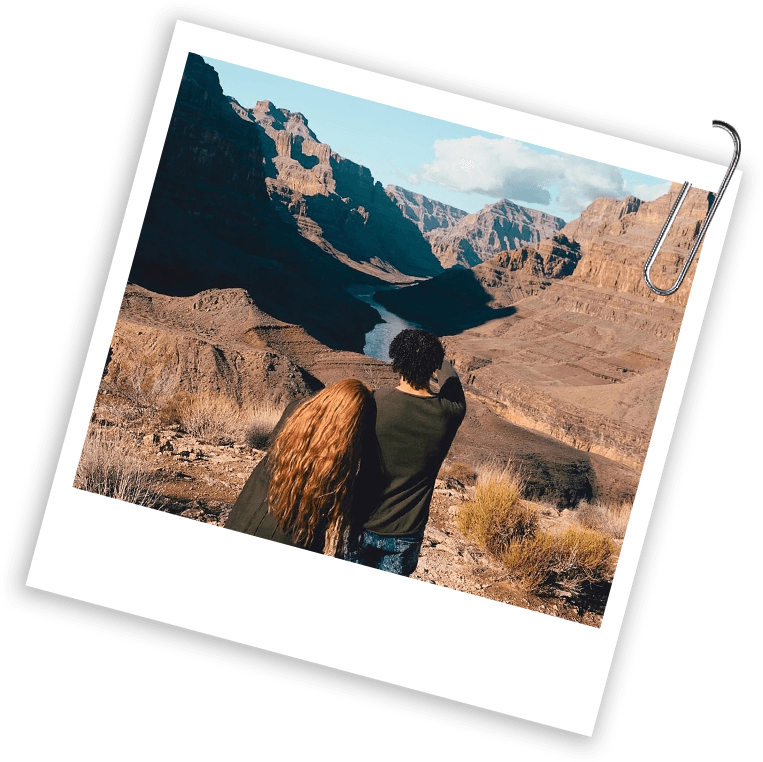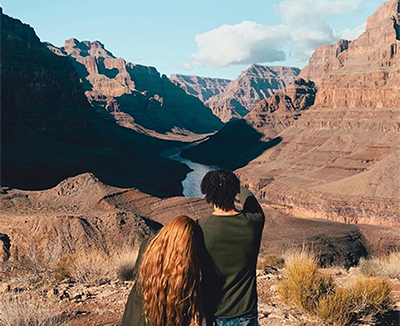 Mum and Dad,
She said yes! It felt like I was walking on air, because in a way I was. I trembled out onto the Skywalk at the west rim of the Grand Canyon—was I nervous about the upcoming proposal or about the glass floor? Madison assumed the latter, and when I dropped to my knee, she shouted, "Oh! Are you going to be ok?" thinking I was having a nervous breakdown. Luckily, her cry of concern caught the attention of kind onlookers still on solid ground (no cameras allowed on the Skywalk!), who recognized what was happening and managed to capture photos and video of the moment. What's next for my fiancée and I? A drive-through wedding in Las Vegas, of course! (Just kidding.)
(Because we're eloping!)
(Kidding, again.)
Love,
Your son and new almost-daughter-in-law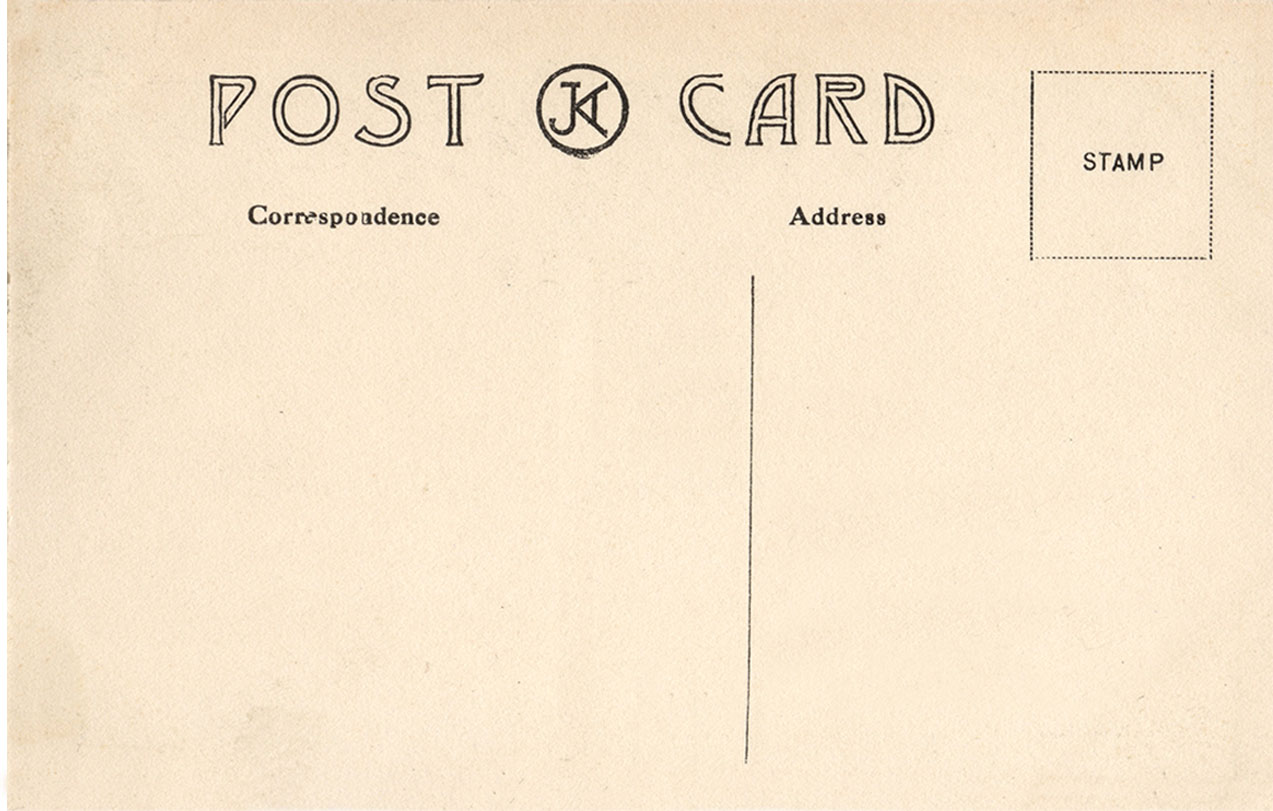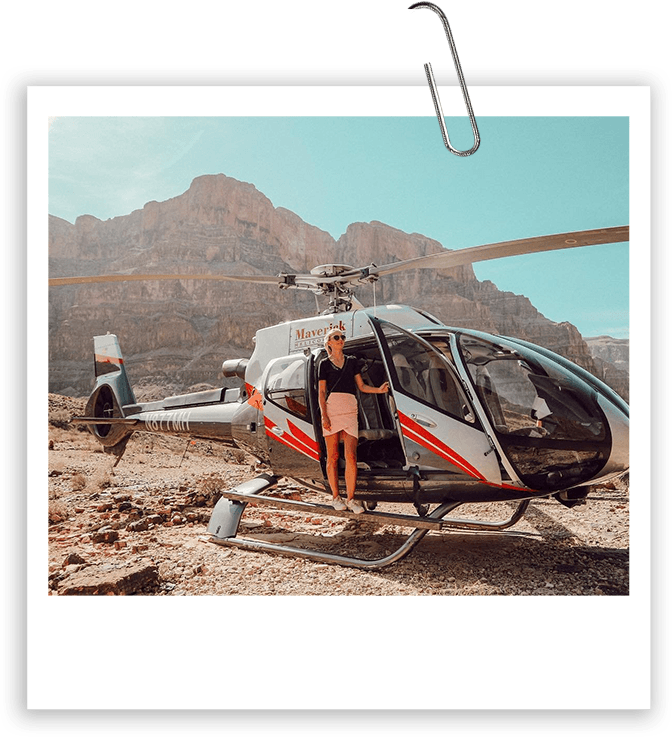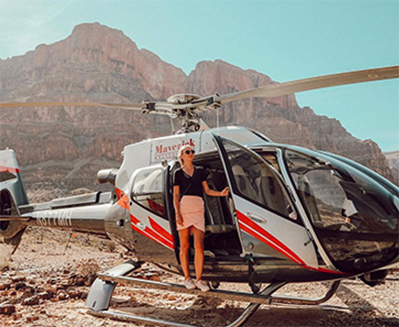 Grandma,
In the past few hours, I've not only ridden in a helicopter to the base of the Grand Canyon, but paddled down the Colorado River and learned the history of the Hualapai People (did you know they believe they're made from the river's sediment and clay?), as well as seen an important monument to The Powell Expedition, an ambitious expedition that ended in tragedy. I'll tell you more about it when I'm back, but I wanted to give you a quick update. And, yes, don't worry—I wore sun-screen and a hat!
Lots of love,
Camille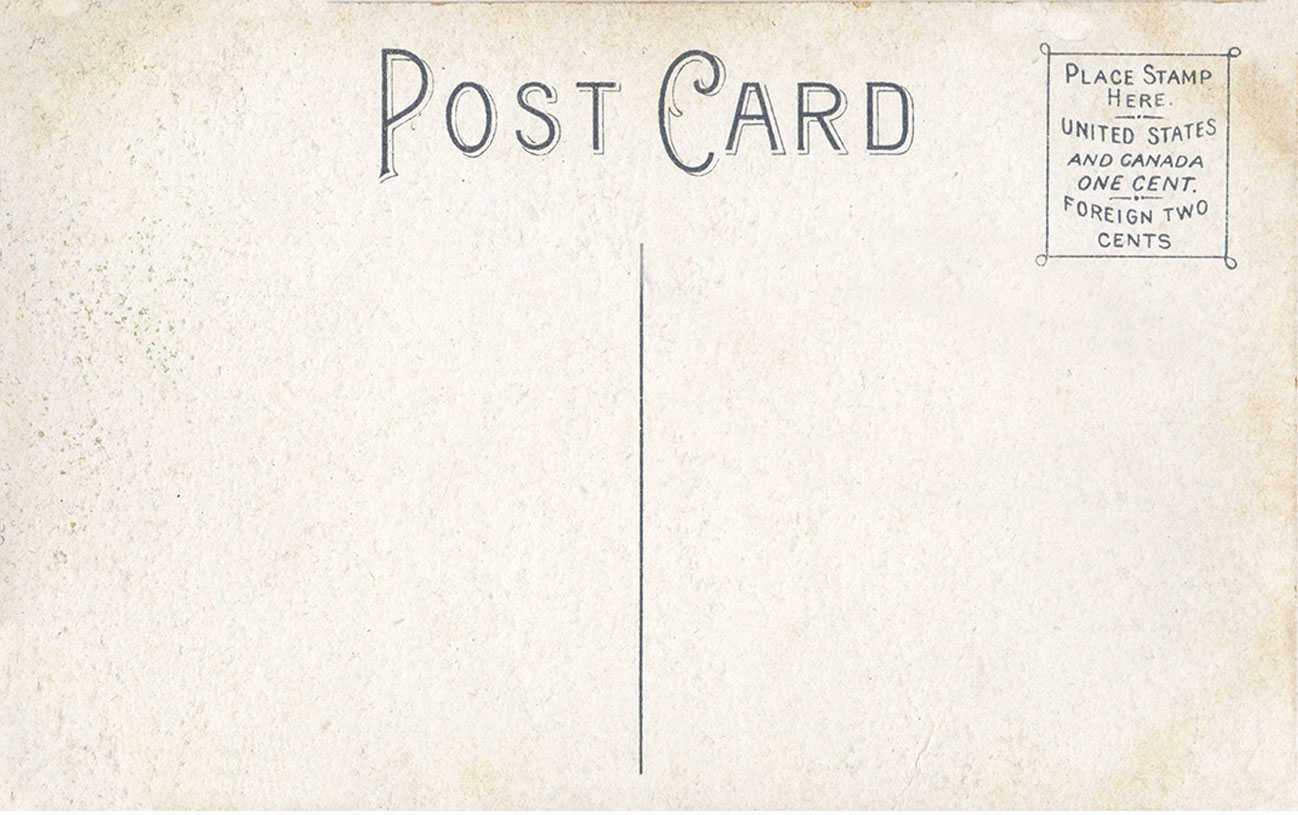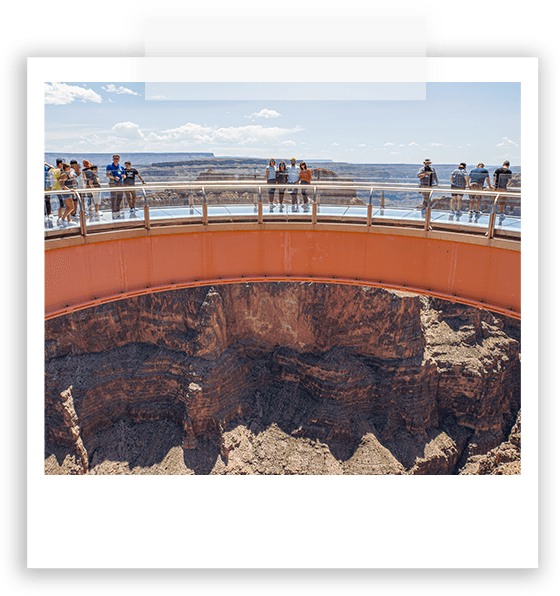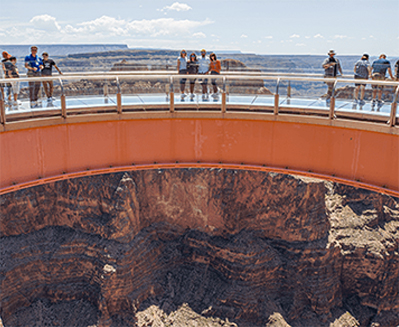 Dad,
You've always known I dreamed of making it to the bottom of the Grand Canyon—I never dreamed I'd seemingly float above it. Things have changed since you visited from Barcelona in the 80s. You hiked the Bright Angel Trail from the South Rim, I took a helicopter to the bottom from the West Rim. You stayed at Phantom Ranch, I walked on a phantom bridge—the Skywalk is a 10-foot wide, horseshoe-shaped glass bridge that extends 70 feet out over the rim, 4,000 feet above the Grand Canyon.
Is it time for a return journey, Dad?
Miss you,
Pascual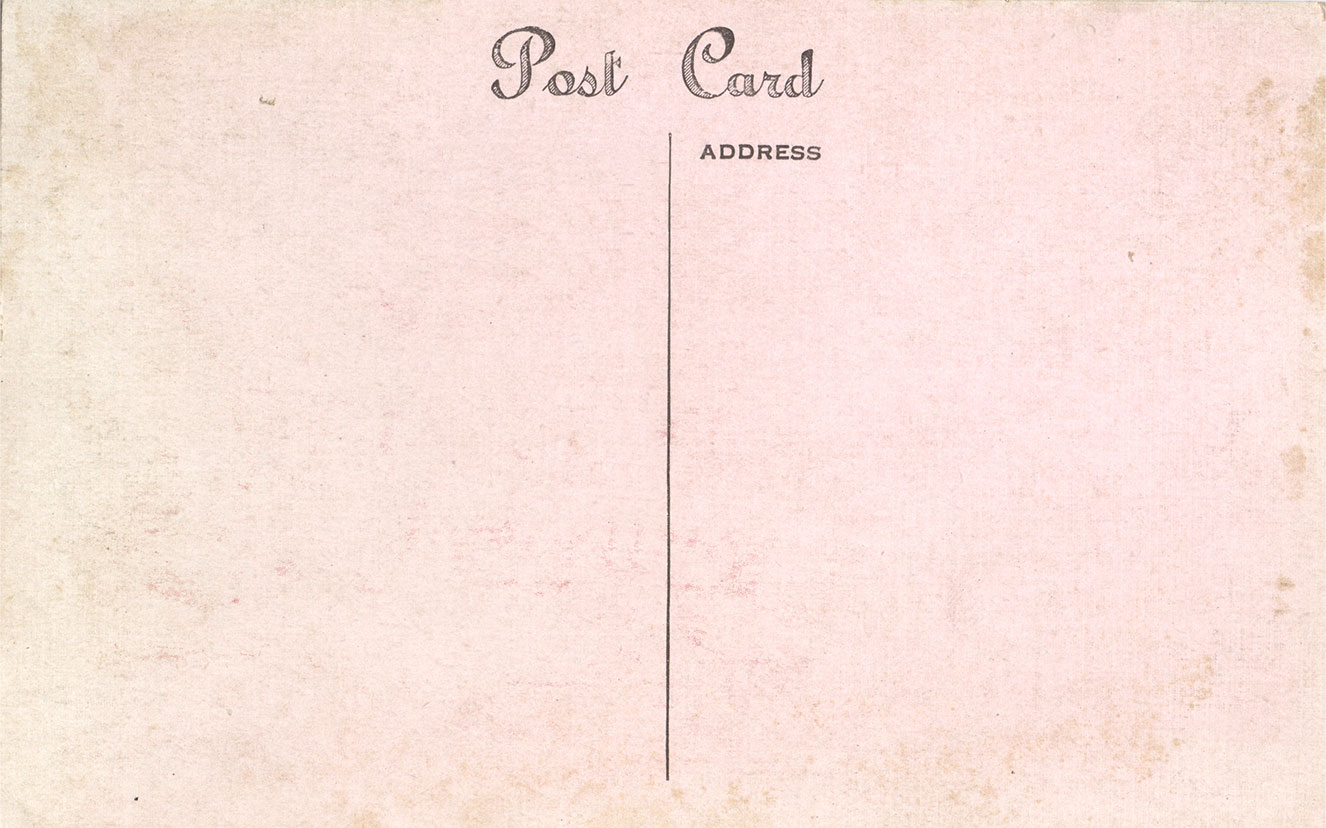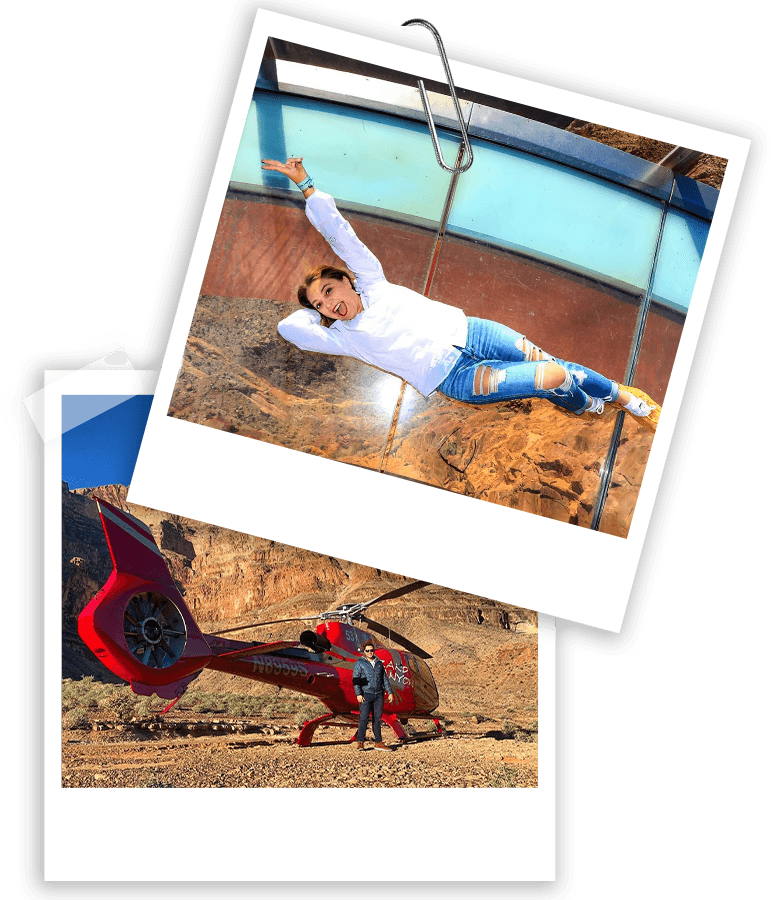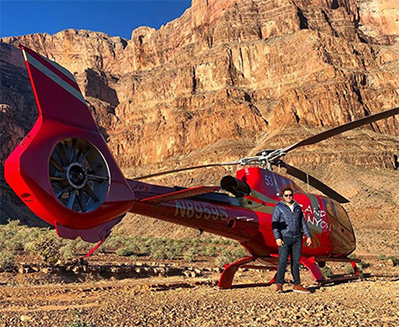 Dear Future Zara,
It's me, Past Zara. On October 4, you conquered your fear of heights more than once. You strode boldly onto the clear Skywalk, and said to yourself "if not now, when?" You didn't let yourself look through the glass floor until you reached the structure's curve. By then, you were too excited to be shocked by the 6,437-kilometer view to the Grand Canyon's depths. Plus, you said to yourself, "only one way back." Next, and I'm sure you remember this, you soared in a helicopter and as you admired the vastness of the landscape below—more calm than you thought you would be, what with the fear of heights and all—you felt fearless and empow-ered. Future Zara? Carry those feelings with you wherever you venture next.
In case you need a reminder.
With gratitude and respect,
Past Zara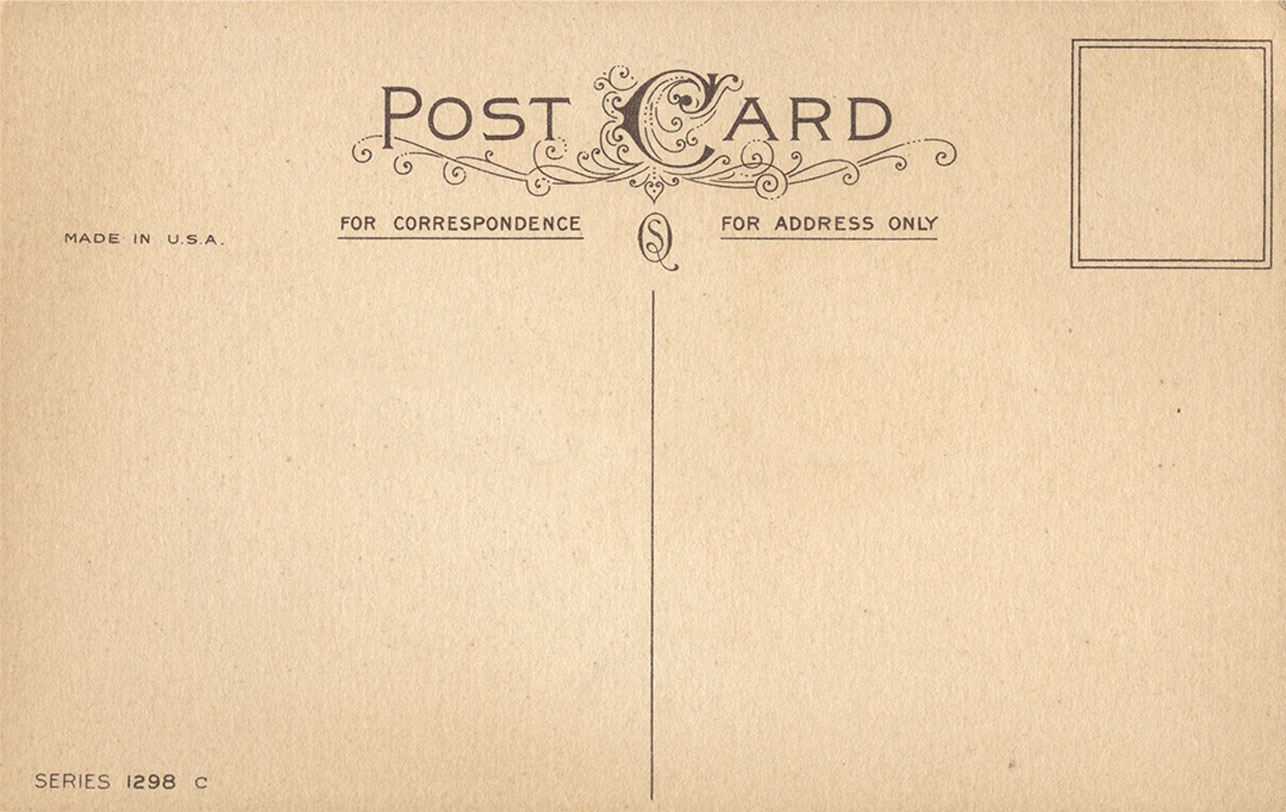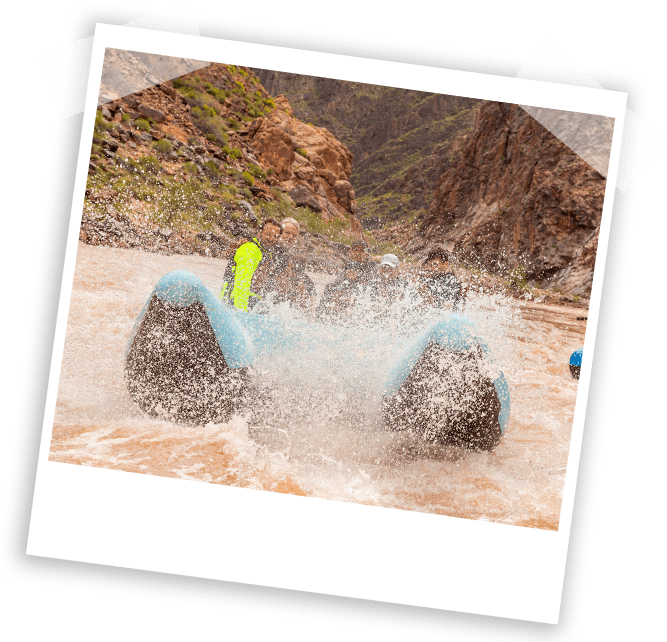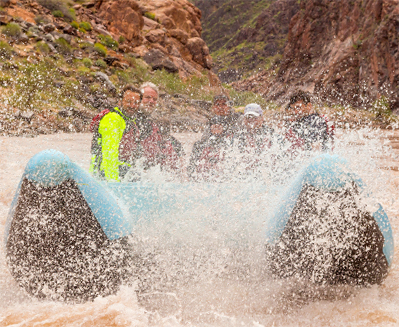 Harry,
The Grand Canyon and London are as contrary as the canyon is capacious. I soaked up the bright Arizona sunshine as my group bobbed in a blue raft, operated by Hualapai River Runners, on a Colorado River adventure. The raft captain talked about how the Hualapai people believe they are created from the sediment of the Colorado River. Incredible to see this place after hearing about it for so long. You've got to come see it for yourself. Words don't do it justice.
xx,
Gemma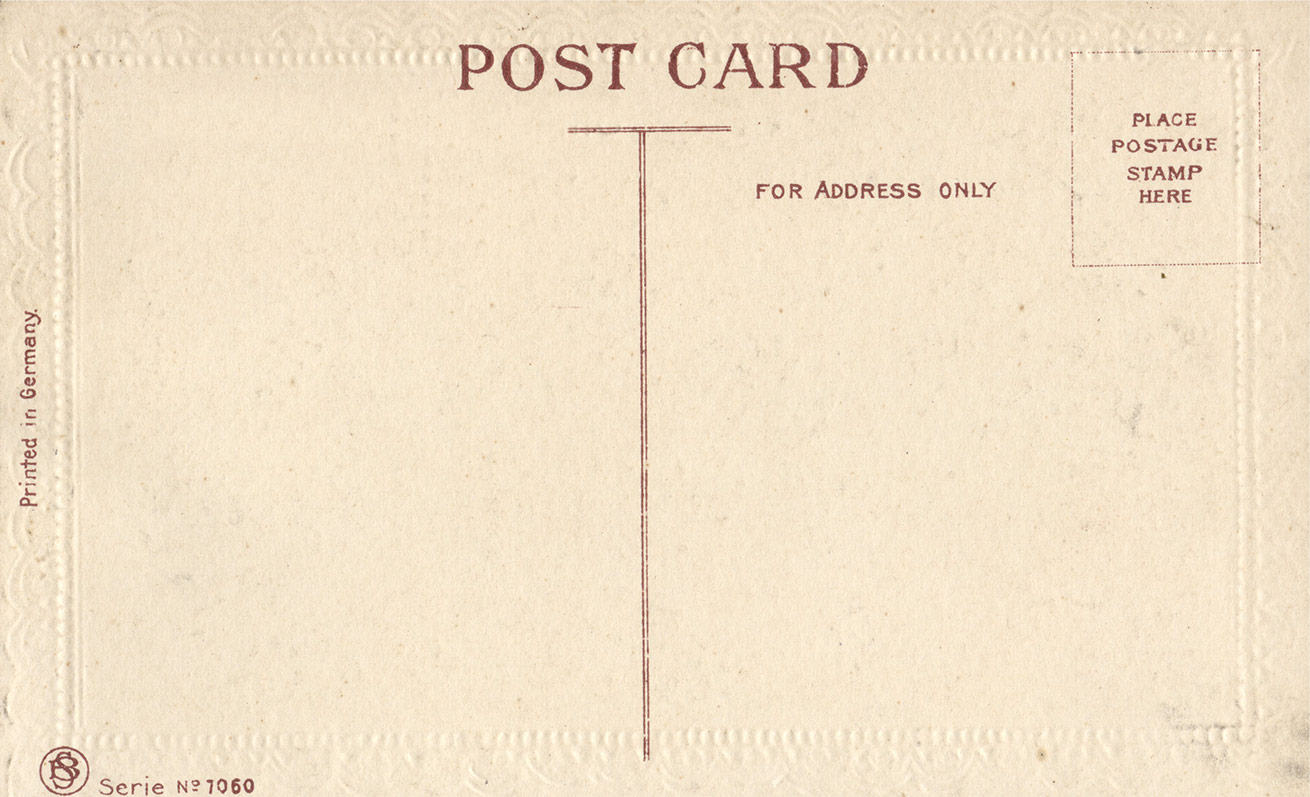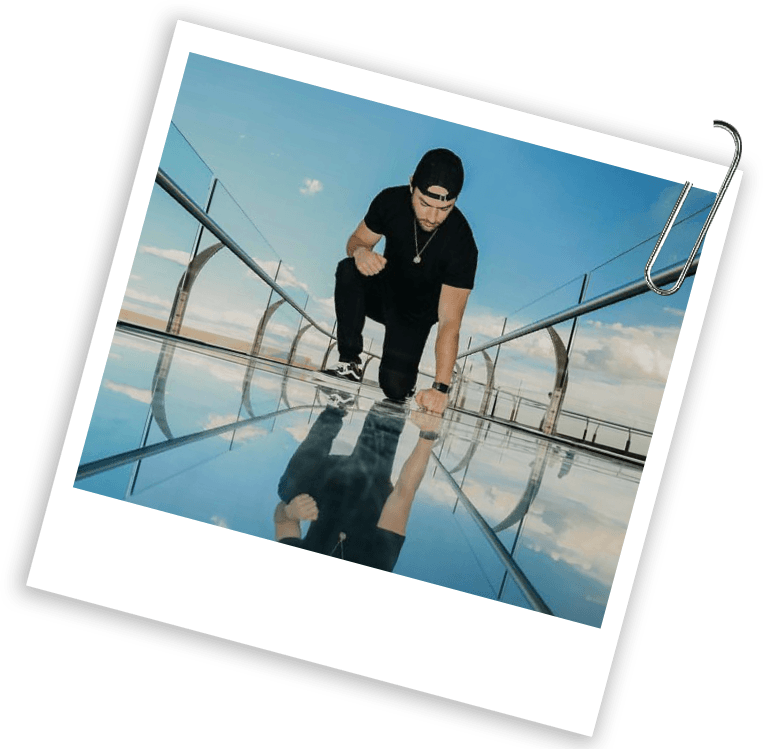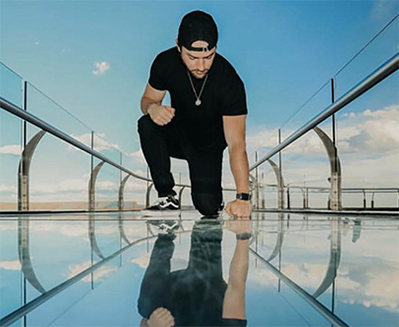 Logan,
By the time you get this, I'll be just a few days from my triumphant return to Oz. Let's hope this note gets you excited! I thought of you as I stepped into the helicopter that would be carrying me to the canyon's base before a cruise on the Colorado River—remember when you convinced me to jump out of one skydiving over the Great Barrier Reef? Later, once again, I floated thousands of kilometers above the ground on the Skywalk, an insane u-shaped bridge that juts out from the edge of the west rim of the Grand Canyon.
When it comes to living on the edge, the real adventure is when you step forward. Looking forward to making more memories with you.
Adore you,
Liam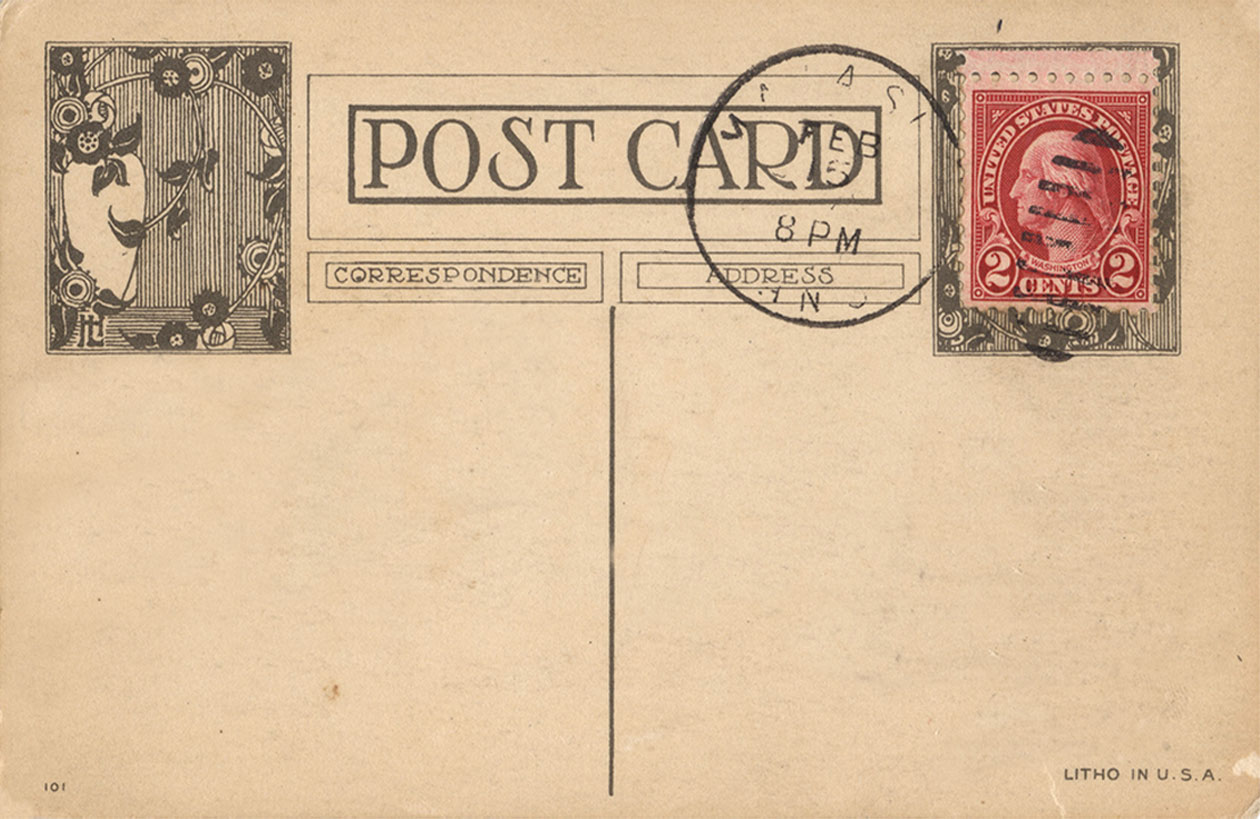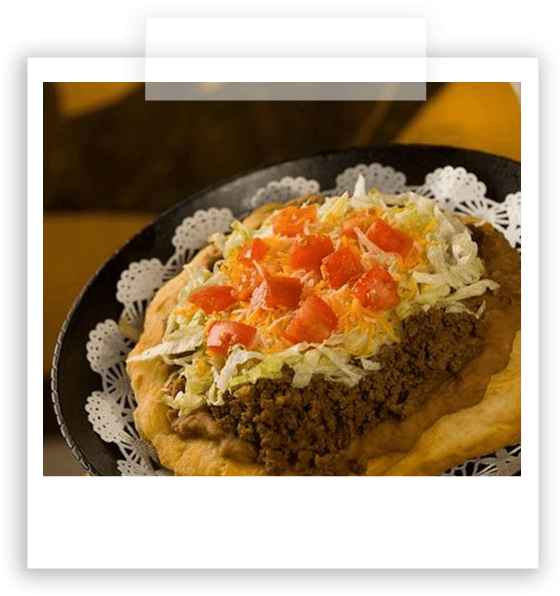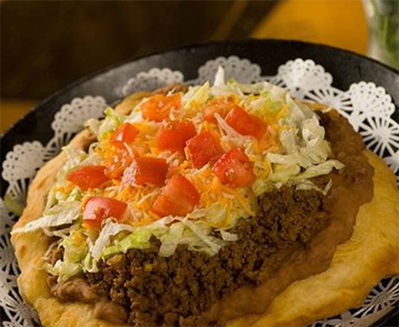 Uncle Paul,
When you visit me in Las Vegas, let's take a trip to Grand Canyon West—you've got to try their version of tacos! The Hualapai Taco has fry bread instead of a tortilla, refried beans, ground beef, lettuce, chopped tomatoes, cheddar cheese, sour cream and salsa. It's different, but in a good way. Not like that time you tried to grow a mustache. I still laugh at that picture from Easter.
Your favorite nephew,
Ivan