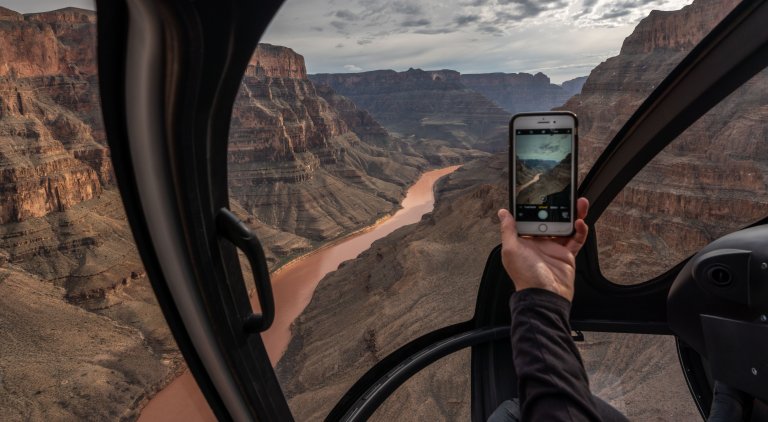 Soar the canyon, float the Colorado River. Experience the Grand Canyon from a whole new level when you take flight in a helicopter and float in a pontoon. Stunning tours above the rim of the Grand Canyon lasting 12-15 minutes offering spectacular aerial views of the area from a helicopter.

You can explore even more of the Grand Canyon from above and below the rim with the Grand Canyon Discovery tour. You'll fly 3,500 feet down to the bottom of the Grand Canyon where you'll disembark for a seat on a pontoon boat for a smooth ride on the Colorado River marveling at the amazing beauty surrounding you. Then hop back in for your 3,500-foot ascent to the top of the rim.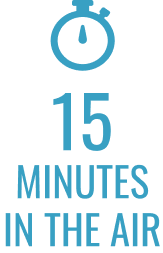 BUILD YOUR GRAND EXPERIENCE
KNOW BEFORE YOU GO
The Helicopter + Pontoon tour is offered at Grand Canyon West from Grand Canyon West airport on the Hualapai Reservation and is not affiliated with Grand Canyon National Park.
Tours are offered daily with a total tour time from check-in to return of approximately 1 hour.
Check-in for this experience is at the Skywalk Terminal. Prior to riding in the helicopter, each person in your party will be weighed and seated in the helicopter accordingly.
This is an Add On Tour and General Admission tickets are required to purchase this experience.
Although the water is smooth you may be sprayed as the boat travels through the water.
There are no age restrictions.
GETTING HERE
Grand Canyon West is located on the Hualapai Reservation at the west rim of the Grand Canyon, with the white water rafting and Hualapai Lodge located in Peach Springs, Arizona. Use this map to find your way to your next grand adventure.
View Map