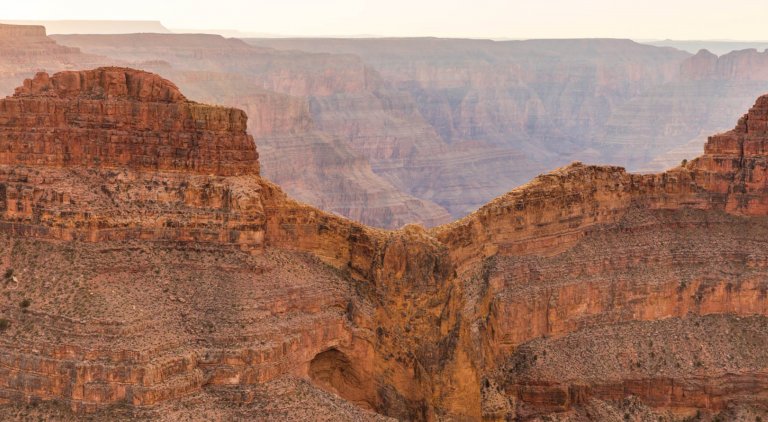 Discover the ways of the Hualapai People. Grand Canyon West is situated on the Hualapai reservation. During your visit, you can immerse yourself in Native American culture through dance, self-guided tours and shopping at Eagle Point.
For a glimpse at local and regional tribal heritage and traditions, take a self-guided tour through Eagle Point's authentic Native American Village. Stroll along the path lined with traditionally built housing, ovens and sweat lodges and be amazed at the unique architecture, style and functionality of each structure and feature. As you explore the grounds, imagine a simpler time when Hualapai, Navajo, Plains, Hopi, Havasupai and other Native American tribes roamed the lands. Every Friday, Saturday, and Sunday (10:00am – 3:00pm) at the outdoor amphitheater, sit back in a shady spot to enjoy the musical sounds and magical dances of the Hualapai Tribe.

Before you leave Eagle Point, stop into the gift shop that offers a variety of souvenirs from t-shirts and hats to handcrafted jewelry and weavings made by the Hualapai, Hopi and Mojave tribes. Take a piece of the Grand Canyon and the Hualapai culture home with you.
BUILD YOUR GRAND EXPERIENCE
KNOW BEFORE YOU GO
Eagle Point is located on the Hualapai Reservation and is not affiliated with Grand Canyon National Park.
Performances at the outdoor amphitheater vary, and can include various indigenious tribe from across the region.
The Native American Village is a self-guided tour you take at your own pace. Make sure to hydrate while you are exploring outside in the desert at the West Rim.
GETTING HERE
Grand Canyon West is located on the Hualapai Reservation at the west rim of the Grand Canyon, with the white water rafting and Hualapai Lodge located in Peach Springs, Arizona. Use this map to find your way to your next grand adventure.
View Map