Hualapai Lodge & Route 66
Sky Earth Water
Hualapai Lodge Is Currently Closed
Hualapai Lodge is currently closed through the remainder of 2020. A reopening date will be announced at a later date.
Diamond Creek Restaurant is currently closed. A reopening date will be announced at a later date
Situated on the longest remaining stretch of the original historic Route 66, the Hualapai Lodge is the primary starting point for travelers looking to explore the raw Grand Canyon landscape via whitewater rafting, hiking, fishing, hunting, and more. Experience the historic charm of Route 66 and the unique culture of the Hualapai Tribe when you stay at this Peach Springs, Arizona hotel.
Hualapai Lodge is located about 2 hours from the West Rim. For lodging at Grand Canyon West, please check out the cabins at Hualapai Ranch.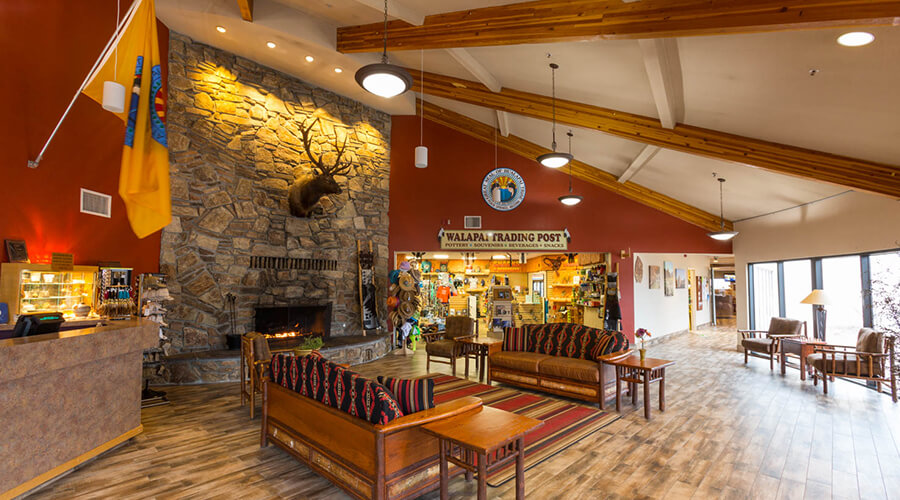 THE HUALAPAI LODGE
Hualapai culture envelopes you as you pass through the doors of the Hualapai Lodge, which features 54 cozy rooms, an array of generous amenities, authentic Hualapai artwork, a gift shop with Hualapai art and gifts for purchase, and family-style dining at the Diamond Creek Restaurant. The warm, inviting atmosphere of our Lodge encourages visitors to begin and end their days by sharing their personal adventures in front of the specially crafted river-rock fireplace in the lobby.
Please be advised that Hualapai Lodge is located in close proximity to Santa Fe Railroad. Trains pass by 24 hours a day, 365 days a year.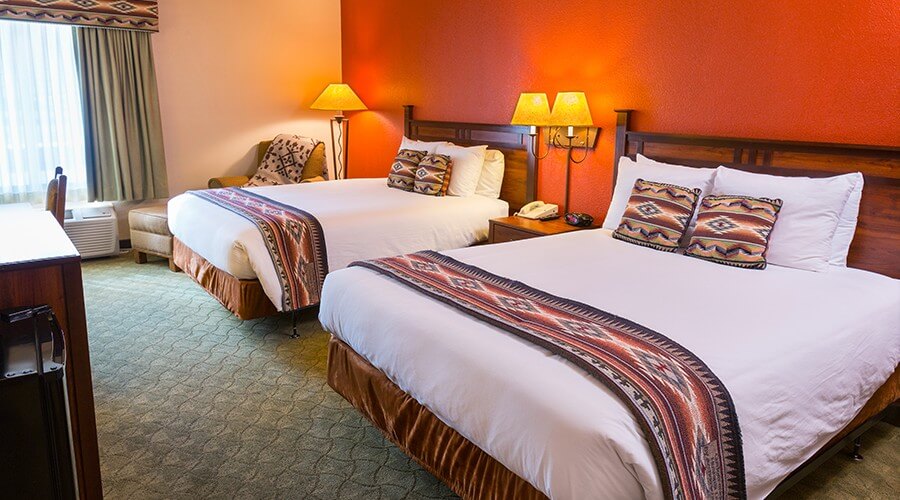 GUEST ROOMS
Make the Hualapai Lodge your home away from home in-between your Grand Canyon excursions. Choose from rooms with one king bed or two queen beds. Amenities include: a desk, kitchenette with refrigerator, microwave, coffeemaker, sitting area, bathroom with tub or shower, hairdryer, free toiletries, and iron and ironing board. Modern features in each room include a flat-screen TV with cable channels, telephone, alarm clock, and free Wi-Fi access. All accommodations are 100% smoke-free and feature individually controlled heating and air conditioning for your comfort.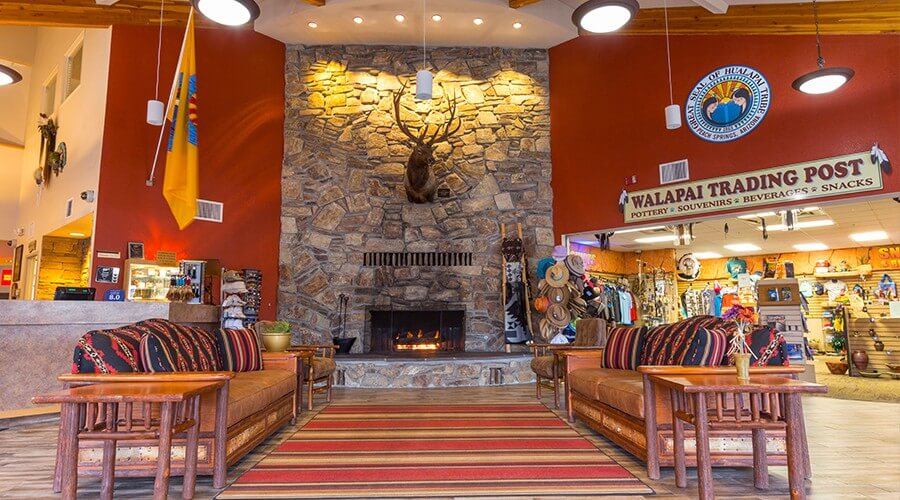 Hotel Amenities
Our Peach Springs hotel has everything you need for a comfortable and pleasant stay. Enjoy the following amenities during your stay:
Complimentary Wi-Fi
On-site restaurant serving breakfast, lunch, and dinner
Business center facilities and equipment
Lobby featuring guest computers and river-rock fireplace
Select pet-friendly rooms
Concierge and tour/ticket services
On-site gift shop with mail services
Outdoor heated pool and jetted hot tub
Close to gas station and convenience store with food and sundries
Contact Reservations at (888) 868-9378 for additional details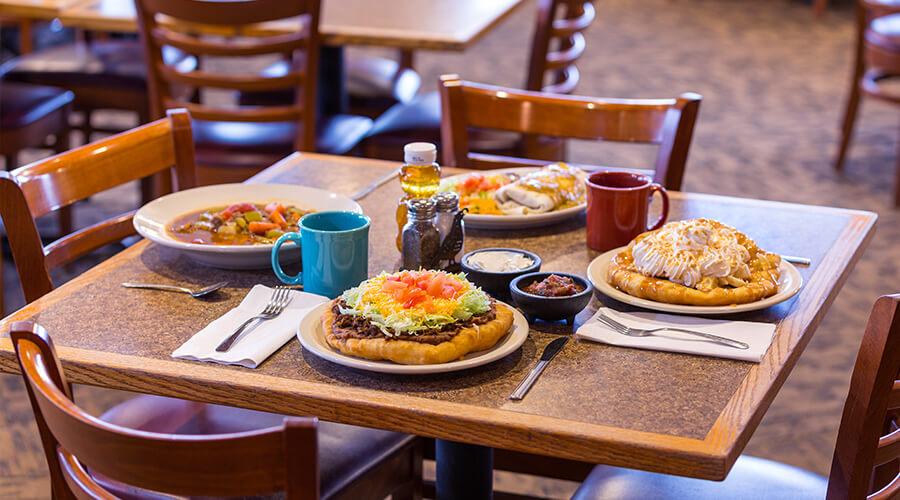 HOME-STYLE DINING AT DIAMOND CREEK RESTAURANT
Delicious home-style cooking awaits you at our on-site restaurant. Diamond Creek is open for breakfast, lunch, and dinner, serving everything from omelets and salads to burgers and pizzas, plus dessert. If you're really hungry, we recommend the Devastator Taco—a super-sized feast full of refried beans, taco meat, lettuce, tomatoes, cheese, and salsa. This massive treat weighs in at almost 6 pounds, and if you can eat it in 60 minutes or less, you get a t-shirt and your photo on the wall of fame, plus your meal is free!