behold the grand canyon west rim
Awe-inspiring Grand Canyon experiences don't get any better from the Hualapai Tribe's Grand Canyon West Rim. Walk the glass panels on the Skywalk. Soar over the canyon in a helicopter or on a zipline. Float down the Colorado River on a river tour. Take in the epic views at Guano Point and Eagle Point. Enjoy bonfires, games, mock western gunfights, and opportunities to learn more about the Hualapai story as well as comfy cabins for your overnight stays at the Hualapai Ranch. Discover the many different perspectives of this natural wonder, conveniently located near Las Vegas, Laughlin, and Lake Havasu.
Begin Your adventures at
the grand canyon west rim
$45.00
MAKE YOUR TRIP EVEN MORE MEMORABLE WITH THESE AMAZING EXTRAS!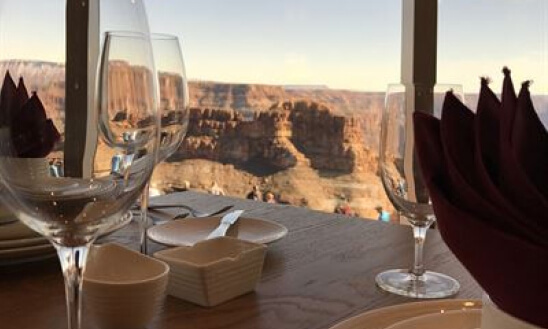 $22.00
Getting Here
Your Adventure at a Glance
West rim & Heliport
Skywalk
Eagle Point
Guano Point
Hualapai Ranch
Zipline
Hualapai Lodge
Hualapai River Runners
Walapai Market
Hualapai Cultural Center
You may also Enjoy
Need even more inspiration? Check out these resources to help you start your Grand Canyon West adventure today!

Creations by Native Hands
Eagle Point, Native American Village
Included with General Admission
Take home Native American treasures from Creations by Native Hands Gift Shop located at the Native American Village. Discover a unique collection of gifts, such as soaps made with traditional herbs used by indigenous peoples.

Gift Shop
Skywalk & Main Terminal
Included with General Admission
Grab your souvenirs at the gift shop. You'll find Grand Canyon West, Skywalk and Route 66 memorabilia, including t-shirts, coffee mugs and postcards.

Currently Closed
Native American Market
Guano Point
Times and Days Vary
Local Hualapai and other Native Americans gather at Guano Point to sell their own creations to you. Handmade merchandise varies.

Hualapai Ambassadors
Grand Canyon West
Included with General Admission
Learn all about the Hualapai culture from tribal members at Grand Canyon West. You'll find these welcoming folks around the property, ready to share the tribe's history.

Shuttles
Grand Canyon West
9am to 7pm daily
Included with General Admission
Grand Canyon West operates hop on and off shuttles driven by guides who share information about the area. These buses safely transport you to and from the attractions at Grand Canyon West and Peach Springs, Arizona.